ACCURATE SHIFT SCHEDULING AND TIME SHEETS.
Manage your workforce by creating rotating weekly shifts. Once shifts are created and put in rotation, schedules are automatically generated for all users. Daily and weekly time sheets are initially generated with a technician's sign in on first call and finally integrated and uploaded with last work order completion of the day.
Time sheet Features: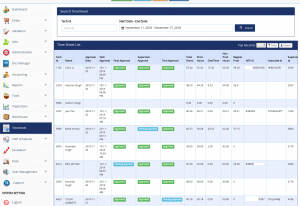 Automatic timesheet generation based on first and last completion times.
Time sheet approval workflow
Production, Non production, overtime and lunch hours calculations
Daily and weekly Personal and business mileage
Comments may be added for approval or disapproval of timesheets.
Different work categories e.g: Training, Meeting, LOA  and more.
3 levels process of timesheet approval; technician, supervisor and management
Calculates accurate pay according to work classification such as training, meetings, and LOA and more
Shift Schedule Features:
Create and configure shifts.
Generate automatic schedule based on shifts.
Ability to classify shift status, i.e; holiday, sick call, ride along etc.
Accessibility to request overtime, shift change, time off, vacation etc.
Historical data for checking and reviewing past off days.